sparks! is excited to partner with Bright by Text
Parents, grandparents and other caregivers  – receive helpful tips texted to right to your phone on a regular basis.
The tips will be geared specifically for your child's age.
If you are expecting or have a child up to 8 years old, you can sign up for this free service.
Just text SPARKS to 27448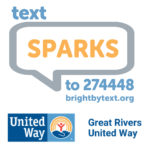 To find out more or to sign up online, use this link:  BrightbyText